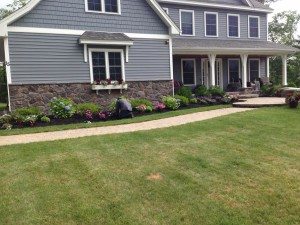 Even the best designed, most carefully planned outdoor environments require regular maintenance to keep them healthy and looking great in all seasons.  While many of our customers enjoy maintaining some or all of their property themselves, it is not unusual for them to ask us for seasonal or area-specific help.  Even the most dedicated gardeners find that a busy life makes it impossible to perform every landscaping maintenance task themselves.
So, whether you have a small or large property lightly planted with large lawn areas or heavily landscaped to form a natural setting; or need occasional assistance or regular weekly maintenance, we can help.  From a property which is your main home to a second home requiring maintenance when you are not there, Raisanen Landscaping LLC can tailor a service package to meet your needs.
Enjoy your beautiful outdoor living environments throughout the seasons with Raisanen Landscaping LLC helping you with:
Spring Clean Up
The winters in southern New Hampshire can be harsh on a landscape. Raisanen Landscaping LLC provides the extra care your property needs for it to start the summer months strongly.  In the spring  we'll pick will pick up leaves and debris, cut and trim fallen branches and trees, dethatch and rake lawn areas, clean up and mulch beds and give your yard a breath of fresh air.
Mulch
Mulch adds the final touch to your spring cleanups. We'll deliver and install any of these four types of mulch:
Enhanced Premium Blend Mulch
Pine Blend Mulch
Pure Hemlock Mulch
Black Mulch
Mowing
Raisanen Landscaping, LLC's residential mowing services are very popular in Merrimack, Nashua, Bedford, Hollis, Hudson, Amherst, Millford and Windham. We offer both weekly and bi-weekly mowing services to Southern New Hampshire residents at affordable prices. With more than 20 years of combined experience, our crews take great pride in providing reliable lawn care services to you and your family.
Pruning
During the summer we prune and trim shrubs and trees to keep them perfectly shaped and healthy.
Annual Flowers (Seasonal Colors)
Flowers add a touch of beauty to an outdoor landscape.  Raisanen Landscaping LLC can help you pick and install these seasonal plants to suit the light and moisture conditions of your property.
Fall Clean Up
Summer was fun and perhaps our mowing services allowed you to fully enjoy your property throughout the season. And, watching southern New Hampshire's fall season unfold is an annual joy. But, the leaves need to be picked up.  Call Raisanen Landscaping LLC and we'll pick up the leaves or blow them in to the woods for you. You can keep enjoying your landscape right up until the snow flies.
To talk about your property's needs in Merrimack, Nashua, Bedford, Hollis, Hudson, Amherst, Milford or Windham give us a call: Raisanen Landscaping, LLC today at 603 886 7333.