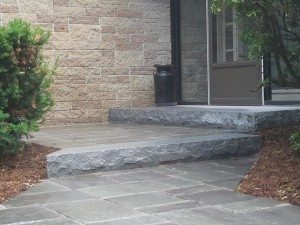 Simply put, hardscaping consists of all the non-living objects and materials that enhance the appearance and functionality of your home's outdoor spaces.  Hardscaping provides the durable surfaces such as terraces, patios and decks that allow you to use your outdoor spaces comfortably in all seasons.  It also defines the pathways through which you experience your outdoor environment.  Whether it's through meandering paths, stone steps, or formal walks, hardscaping provides the transition between your home's entrances and the natural, living qualities of your property.
Often a property's topography requires level changes for functionality or walls for privacy.  Retaining walls, screen walls, and fences are hardscaping elements meet those needs and are best designed and constructed as an integral part of your landscaping project.
Finally, there are many accessories which can transform a great outdoor space into a truly magical outdoor living environment that you, your family and your friends will enjoy in all seasons.  Outdoor kitchens, fire pits, barbeques, pizza ovens, gazebos, lighting are just a few of those accessories.
In addition to integrating hardscape into your design, Raisanen Landscaping LLC understands the importance of high quality materials and proper installation.  Our hardscaping elements are selected and installed for beauty, functionality and the durability required by New Hampshire's challenging climate.
We regularly provide our customers with:
Patios
Walkways
Retaining Walls
Outdoor Kitchens
Firepits
Granite

Steps
Lightposts
Mailboxes
If you have a hardscaping project in Merrimack, Nashua, Bedford, Hollis, Hudson, Amherst, Millford or Windham, or are just thinking about one, call Raisanen Landscaping, LLC today at 603 886 7333.