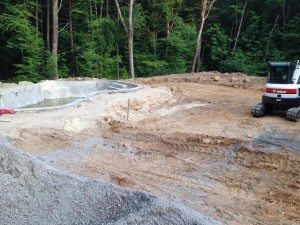 One of the most stressful events around your home is excavation. Big machines combined with small spaces, dirt, water and holes often team up to create unpleasant experiences. We at Raisanen Landscaping, LLC realize this and always work hard to minimize disruption to your life.
We do:
land clearing
grubbing and root removal
stump removal
backfilling
grading
drainage
yard expansion
close foundation work
pavement removal
pool removal
We can say that no job is too small….or too large. At Raisanen Landscaping, LLC, regardless of size or type, we approach each job with care and concern for your property and your living environment. We pick the equipment to do the job based both on its efficiency and the amount of disruption to your property. We look for the smallest equipment that can do the job quickly.
Planning is a key to success on all excavation projects. We'll plan the work and discuss it with you so that you understand when and how it will happen. We'll explain what peripheral damage is likely, how we are going to minimize it, and how we will restore the property when the job is done.
Our goal is to perform your excavation project in a quick, efficient, and painless manner with no surprises.
There are always choices of materials and techniques when performing excavating, backfilling, grading and drainage. We, at Raisanen Landscaping, LLC, have the experience to confidently explain our recommendations and offer you alternatives when appropriate. Our goal is to offer you the most value for your excavation dollars.
If you have an excavation project in Merrimack, Nashua, Bedford, Hollis, Hudson, Amherst, Milford or Windham, or are just thinking about one, call Raisanen Landscaping, LLC at 603 886 7333.